Wekiva Island
Wekiva Island offers a large variety of water activities while still offering the ideal spot to relax along the river. From renting out paddleboards to relaxing at the outdoor bar enjoying a drink, it is a perfect place to spend the day taking in the beautiful views Florida has to offer. It is a very popular spot in Orlando so reservations are highly suggested during the weekends as it can get very busy.
Three Sisters Springs
Three Sisters Springs are located in a natural inlet along Crystal River that contain vents and sand boils. Take a walk on the nature trail that surrounds this one acre park and look for the large number of manatees down below in the crystal clear water. In order to access this area you must go to City Hall first to pay the small entrance fee to which a trolley will then take you to the springs. This is a great place to take a nice stroll to see some manatees without having to get in the water.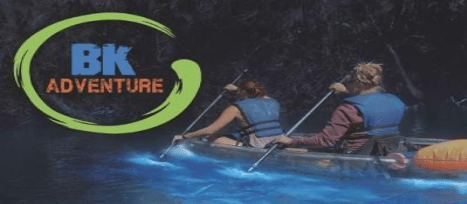 One thing many people don't realize is that Florida has bioluminescent algae that glows a bluish-green during the nighttime. Cocoa Beach and Titusville are two places you can go to that are great to see this natural phenomenon take place while on a kayaking tour. As you paddle around, the disturbance in the water causes these microscopic organisms to produce a blue glow that is commonly compared to the movie "Avatar". With companies such as BK Adventure, you are able to choose from a large variety of opinions to include kayaking, family rafts and even paddle boards along your guided tour. These guides take the stress of trying to navigate it yourself which allows you and your spouse the ability to relax and take in this breathtaking experience.
Orlando Tree Top Trek
Just outside the amusement parks in Kissimmee, Orlando Tree Top Trek offers a great experience for the couples looking for something challenging to do. This ropes course offers obstacles that progressively get more challenging as you go along.
Skydive Space Center
What is a better way to see the world than being 18,000ft up in the air. Skydive Space Center offers a great experience for those adrenaline seekers looking to live life on the edge. There are multiple jumping heights for you to choose from including the world's tallest tandem jump height which is 18,000ft. While falling, the views are truly breathtaking with views of the beaches as far as your eye can see.