BK Adventure Voted 2023 Best Eco Adventure of
Florida Space Coast

Titusville, Florida Jan 20, 2023 – BK Adventure, the world's top bioluminescence
tour company located on Florida's Space Coast, is proud to announce that it has
been named the 2023 Best Eco Adventure of Florida Space Coast by Space Coast
Living Magazine. The award, determined by popular vote from the Space Coast
community, recognizes BK Adventure's commitment to providing environmentally
conscious and unforgettable experiences.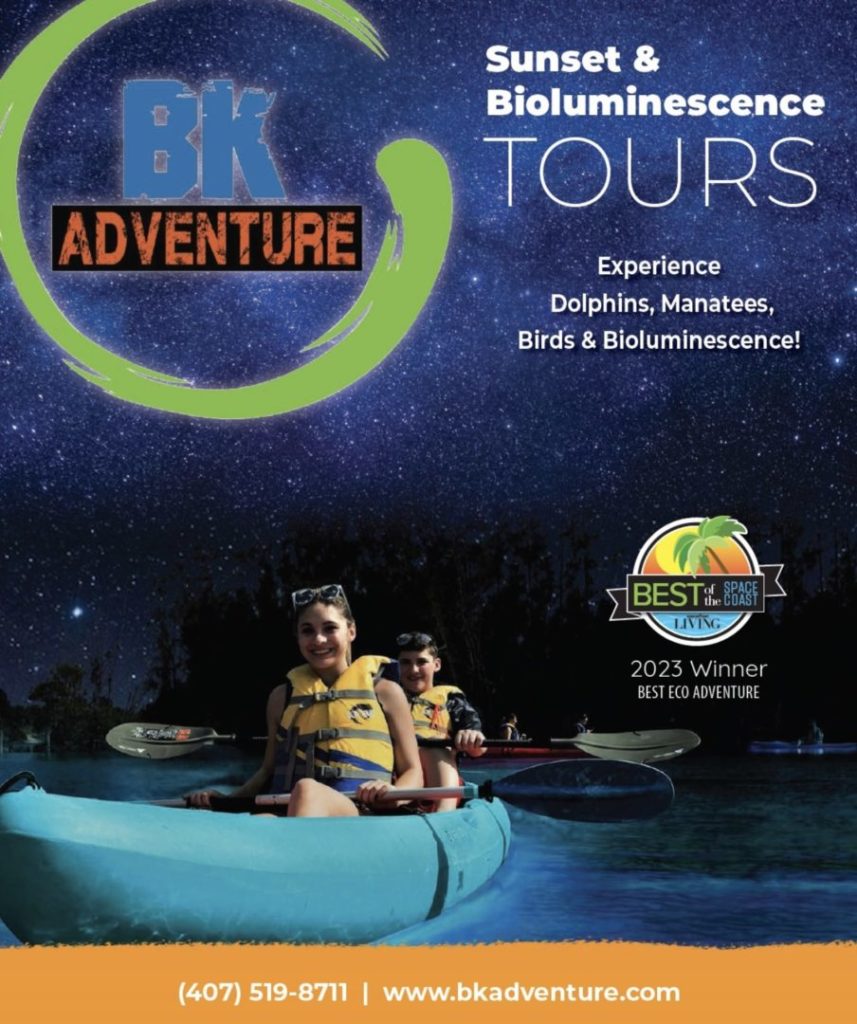 "We are thrilled to receive this recognition from Space Coast Living Magazine,"
said Sandra Krasa BK, founder of BK Adventure. "It is a testament to the hard work
and dedication of our team, who strive to provide our customers with an
unforgettable and environmentally conscious experience. We believe that
ecotourism is vital to protecting our natural resources and are honored to be
recognized for our efforts."

BK Adventure offers a variety of tour options for visitors, including clear kayaks,
traditional tandem kayaks, family-friendly rafts, and paddle boards. Each tour
provides a unique and exciting way to experience the magic of Florida's wildlife and
bioluminescence on the Space Coast near Titusville, Cape Canaveral and Cocoa Beach.

"At BK Adventure, we believe that ecotourism should be accessible to everyone
and we are committed to making sure our tours are inclusive and enjoyable for all
ages," said Sandra.
BK Adventure is a proud member of Visit Florida, the state's
official tourism marketing corporation, and strives to be a good example for other
Florida adventure companies and the entire tourism industry. "Preserving the
natural beauty of the Space Coast and training guides that are committed to eco-
friendly practices will always be among our top priorities."

To learn more about BK Adventure and its tours, please
visit www.bkadventure.com or call (407) 519-8711 | (407) 361-9969.
Media Contact
[email protected]
http://www.bkadventure.com
Categories : Lifestyle , Sports , Tourism , Travel
Tags : Florida , orlando , bioluminescence , space coast , kayaking , valentines day , spring
break , florida bioluminescence , best of space coast , award