Looking for Ways to Discover Real Florida? Do these 5 Adventures!
The Sunshine State is home to several natural attractions. It doesn't matter what your preferences are, Florida for sure has an adventure for you!
Kayaking Florida Springs and Rivers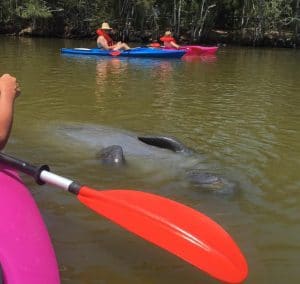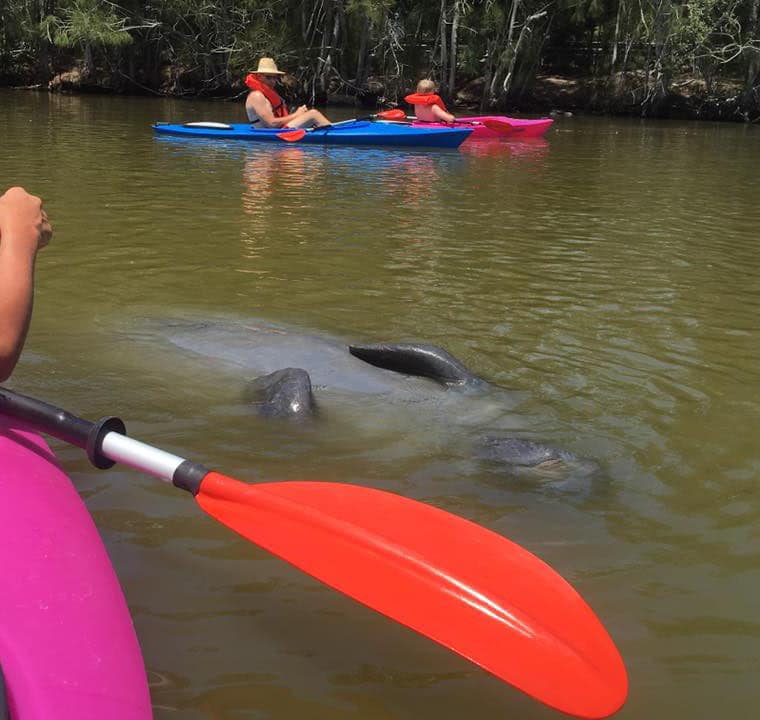 Florida is one of the most visited places in the world, but most people only know about its bays and theme parks. The Sunshine State is also full of unique and pristine paddling trails that many travelers miss while looking for Mickey Mouse.
Florida is a kayaker's heaven; it has a huge diversity of ecosystems all over. From South to North, from West to East, you can experience slow meandering rivers, swift waterways of the northern Suwanee or the mesmerizing clear views of the springs.
If what you want to see is a landscape rich in wildlife during your kayak adventure, Silver Springs State Park is the place for you! Here you can commonly see a diversity of birds, otter, turtles, alligators, and even rhesus monkeys. This clear waterway is bounded by a rich jungle where the original Tarzan movie was filmed in 1932.
One of the greatest ways to visit this paradise is with BK Adventure, this company is part of an international adventure tour outfitter with local guides, experts in taking people to the heart of wild Central Florida. They offer an excursion called "Eco Kayaking Monkey Tour" that starts at the historic Silver Springs and goes all over the Silver River. They know the exact spots were rhesus monkeys are usually seen!
If you love animals but monkeys are not really your thing, don't worry! Florida is also loved by dolphins and manatees! BK Adventure offers a great tour for beginners and all family members where you can a close look at these lovely animals. The manatees come to Central Florida to enjoy the warm, cozy waters of the Indian River. On this tour, you will Kayak into the home of these friendly giants while they curiously check you out and try to interact with you. As if this magic experience wasn't enough, while paddling through the Indian River, you'll most likely see playful dolphins splashing around.
BK Adventure
Phone: 407-519-8711 – office
407-361-9969 – mobile (feel free to text)
Open daily from 9:00 AM – 8:00 PM
Clear Kayaking – Cocoa Beach, Cape Canaveral Area near Orlando
Bioluminescence Night Tours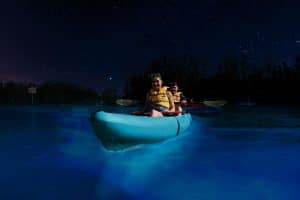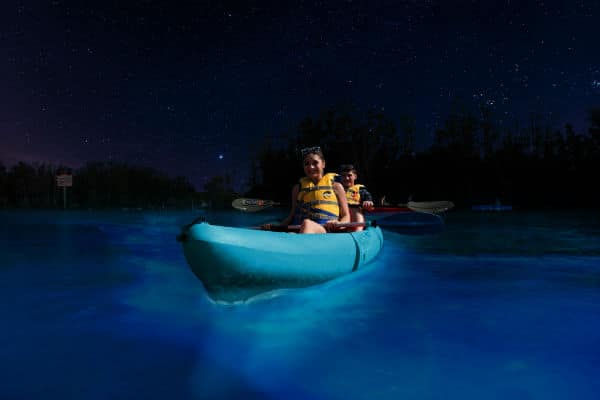 Between the months of October and March, as the waters of the Indian River Lagoon get colder, the comb jellies arrive! Bioluminescent comb jellies are pre-historic sea creatures that have been on the planet for over 500 million years.  Since they do not sting like jellyfish, the comb jellies defend themselves from possible predators by releasing bioluminescent glow. They light up when touched, and look like flashes of light in the water at night.
Then, from June to November, Dinoflagellate Bioluminescent plankton light up the waters of the Indian River Lagoon as you paddle through the canals and kayak trails of this unique estuary! In the early days of summer the bioluminescence kayaking begins to show, and by the height of summer it shines and sparkles bright when it is stirred with your kayak paddle, hand, or even the myriad of Mullet fish flying around.  As if the lighted warm water was not enough, on these dark summer nights – look up!  The sky is filled with it's own light show of millions of sparkling stars!  Because there is no light pollution on the Merritt Island Wildlife Refuge, the night skies are spectacular. BK Adventure's clear Kayaking is a remarkable way to experience this phenomenon!
BK Adventure
Phone: 407-519-8711 – office
407-361-9969 – mobile (feel free to text)
Open daily from 9:00 AM – 8:00 PM
https://www.bkadventure.com/package/bioluminescence-kayaking-night-tour/
Hot Balloon Rides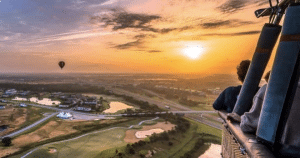 Florida is known for having some of the most beautiful sunrises and sunsets in the world! Most people choose to enjoy them from the beach – which is of course a great idea as well – but we recommend an out-of-the-ordinary adventure that not many people know you can enjoy in The Sunshine State, hot balloon rides! One of the best-ranked companies that offer these peaceful trips is called Orlando Balloon Rides. Their Sunrise Flight is pure magic! It is scheduled seven days a week, all year long, if weather allows. The tour is around 1 hour long and the pilot will show you stunning locations of this area: the Orange groves and jungles, the Orlando theme parks, everglades totally untouched for centuries, and more!
Sunrise Tour, Orlando Balloon Rides
Address: 44294 US Highway 27, Davenport, FL 33897
Reservations/Information Line: (407) 894-5040    9am-7pm daily
Flight Line: (407) 374-2622 (Call after 8:00pm prior to flight)
St Augustine Wild Reserve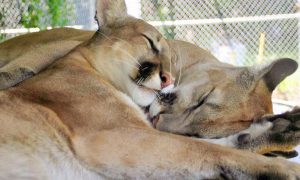 This reserve is a rescue facility for exotic animals like leopards, bears, wolves, tigers, cougars, and much more! Most of these creatures have been dropped off by people who got them as pets and did not want them anymore or were not able to take care of them. Other animals were rescued from cruel homes. The St. Augustine Wild Reserve is open to offer tours to the public by appointment only. An expert able to explain every detail about all of the animals will take guests on a 2-hour tour around the reserve, offering a close look at all the wild animals.
Address: 5190 Farm Creek Road, Saint Augustine, FL 32092.
Phone: 904-940-0664
Airboat Rides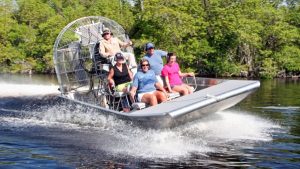 The sunshine state has a unique ability to support a wide variety of ecosystems, but The Everglades is one of the most extraordinary. The Everglades is a territory of tropical swamps in the southern area of Florida. It starts nearby Orlando with the Kissimmee River and goes all the way to Florida Bay at the southern end of the state. This is a magnificent landscape where crocodiles and alligators coexist and so many other animals live in, being its symbol the Florida panther.
The Florida Everglades' waters are too shallow for a typical underwater propeller engine, so the best way to enjoy this paradise is on the beautiful flat bottom airboats! Travelers can pick from a huge range of companies that offer this kind of tours all over The Everglades, but one of the most popular is the called Captain Jack's Airboat Tours.
Address: 905 Dupont Street, Everglades City, FL 34139.
Phone: 844-326-2628. Open 9:00 am – 5:00 pm, 365 days
Have a great trip adventurers!
Author:
Audra Espinoza is a freelance marketing and PR writer from Venezuela.  She lives in Orlando, Florida.