When Is The Best Time To See Bioluminescence?
The most common question we get here at BK Adventure is: when is the best time to see the bioluminescence? While we see bioluminescence all year long, your bioluminescent experience can depend on the time of year as well as what phase the moon is in. In the summer months, we see a bioluminescence produced by dinoflagellates. In the winter months, we see a bioluminescence produced by comb jellies. In certain months while we transition between the dinoflagellates and comb jellies, we are often able to see both of them out on the water!
Is the New Moon the Best Time to See Bioluminescence?
While we typically see the bioluminescence nightly throughout the year, the optimal time for viewing is around new moons when there will be no moonlight reflecting on the water. In the summer months, during these darkened nights, the bioluminescent plankton give off a neon blue glow! You don't have to go on the exact night of the new moon. The week surrounding the new moon is also a great time to go. If you are planning to go on a new moon night, or weekend, book well in advance as these tours sell out.

If you're planning your 2022 bioluminescence tour, check out our calendar below to help pick the best time for you to view the bioluminescence.
Bioluminescence 2022 Calendar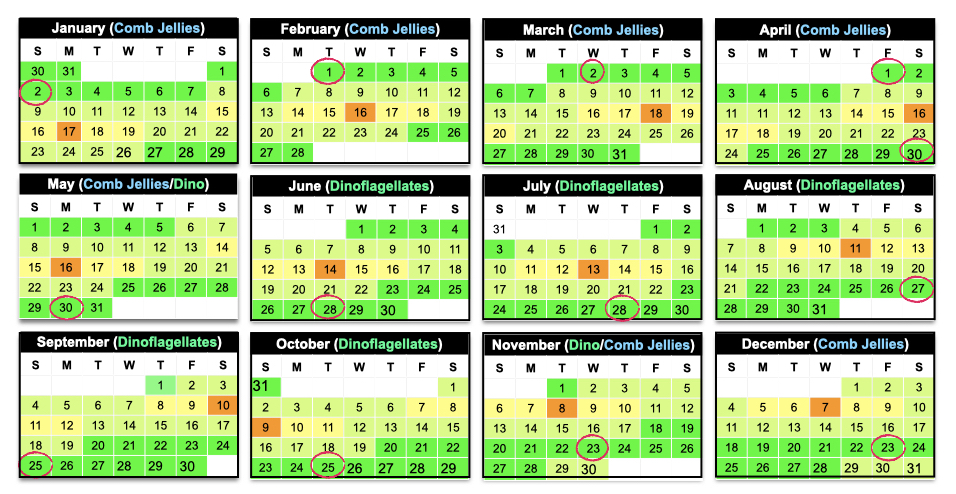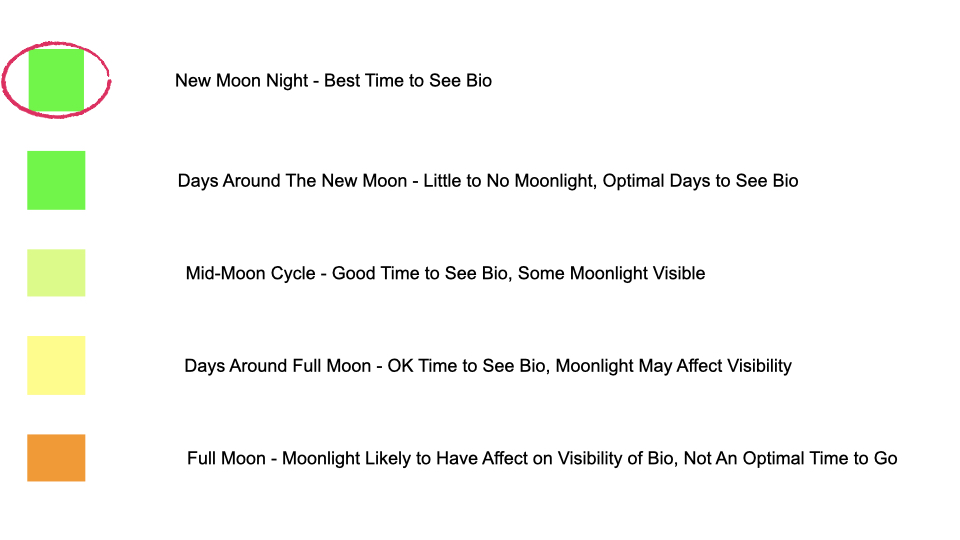 Can You See Bioluminescence During the Full Moon?
If the date you're visiting our area lands around a full moon, don't worry! While the moon light reflecting on the water can affect the visibility of the bioluminescence, our guides are trained to take you to the areas where you are most likely to see it to have the best experience possible. There are also many times where our tours go out on a full moon night and the moon is completely covered by clouds, or sometimes the moon will not rise until very early in the morning after your tour time, making it feel like a new moon! During the summer months you should see bright bioluminescence every night. Kayaking during the full moon can be a beautiful experience!
If you have any questions or concerns about what date to go, our office is always happy to help. You can give us a call at (407) 519-8711 or email us at [email protected].