Clear Kayak Bioluminescence Tours – Cocoa Beach
This is the hottest nighttime event in Cocoa Beach! Join us for a magical evening as you see bioluminescence lighting up the waterways from your glass-like clear kayaks. This tour is just minutes away from Cocoa Beach at Kiwanis Park.
These tours sell out in summer, so if you don't find the date you want here, try our Titusville location about 35 minutes to the north: Wildlife Refuge Clear Kayaks Bioluminescence.
Easy access to this tour is from: Cocoa Beach, Cape Canaveral, Orlando, Melbourne, Miami, Tampa, Clearwater, Saint Pete, South Florida, Palm Beach, Fort Lauderdale, Florida Keys.
This is the closest bioluminescence tour to Miami and South Florida.
Where is the best place to see Bioluminescence near Cocoa Beach?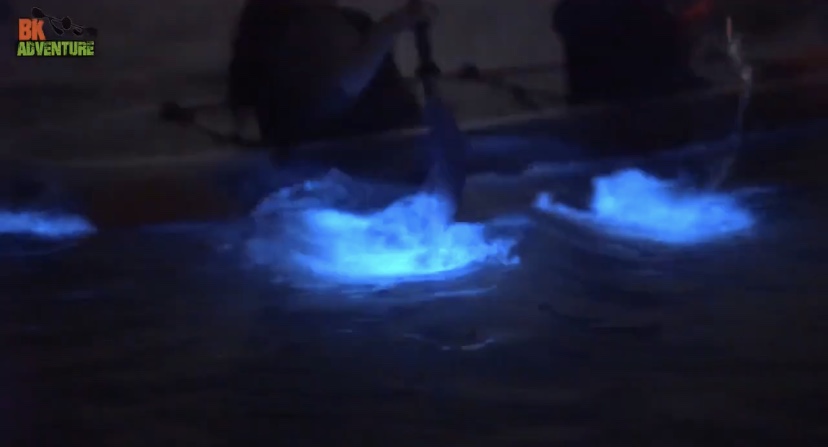 In the summer months both the Banana River and the Indian River glow bright with bioluminescence. Many people refer to this as the "Bioluminescent Bay" of Florida. The bioluminescence here is equally bright, if not more so, than what you will see in the bio bays of the Caribbean. The inland waterways make for the perfect conditions of high concentrations of bioluminescent plankton.
When to go: We do this tour at Kiwanis Island in summer months from May – September.  We do year 'round clear kayak bioluminescence tours at the Merritt Island Wildlife refuge.  Click here for that tour: Wildlife Refuge Clear Kayak Tour.
Tours depart nightly: In summer months there are 3-4 departures per night between 8:30 pm to midnight. Book early for July/August weekends as tours often sell out.
What type of kayak: This tour is in tandem kayak only due to restrictions of the number of boats allowed on the water in the areas we kayak. The clear kayaks are a canoe-kayak hybrid and have a maximum weight limit of 415 lbs, but it is recommended that both riders are under 200lbs.
What is included
Kayak This tour is in a 2-person tandem kayak.
PFD
Guides
What you should bring
Insect repellent
Towel
Flashlight
Water bottle
Sunblock
Weight Limit
415 lbs total for 2-Person Kayak (neither participant should weigh over 250); some participants may need to use the clear kayak as a single person based on weight limits. Additional charge may apply.
Moon Notice
Moonlight effects this tour and how brightly you will see bioluminescence. The less moonlight, the brighter the bioluminescent sea creatures will appear. Please check the Moon Calendar before booking. Note that in July-August dinoflagellates appear so bright that almost any night is great!
Check tour conditions
Check our Twitter updates to see how the wildlife has been lately on BK Adventure Tours.
Meeting point
Kiwanis Island Park near Cocoa Beach and Port Canaveral.
Reviews
FAQ
Our tours rarely cancel due to weather.  If it is raining the day of the tour, chances are, with Florida weather, it will clear up by the time your tour starts.  Sometimes we will hold the tour by 30 minutes for the weather to clear.  In the case of lightning, high winds, or some other reason that we cannot paddle, we will re-schedule all guests to the very next tour available, or at a convenient time for you.  Rainchecks are valid for 1 year.
We recommend you do the "Sunset Tour" if you have time.  That way you get to see dolphins, and possibly manatees and all the amazing birds.  Then, take a break, and go out for the Bioluminescent Kayak Tour later.  It's just $20 more and it's an amazing tour! Click here to book that.
For our single kayaks, the weight limit is 275 lbs.  For the tandem kayaks it is 550 lbs. The night kayaking tours are done on tandem kayaks.
Some people are naturally athletic, and they pick up any kind of activity easily.  If that's you, pick either launch location.  If you are a beginner, or not sure about kayaking abilities, or have small children, you may want to choose the Haulover Canal kayaking location.  You may also want to ask about our new rafting options where you join others in the raft for an easy paddle in a big boat.
We like to think so, but we cannot guarantee it.  Here are the best conditions: hot weather, right after a rain storm, dark night.  Sometimes the night is dark even when the moon is supposed to be bright.  Sometimes a barely visible moon occurs on such a clear night, that even the slightest shine makes it seem bright.  So, there are many factors that make the bioluminescence more/less visible.  The BEST TIME for glowing algae (dinoflagellates) brightness is usually July to October.  But we see it all year round, and in November, we see amazing flashing comb jellies!  So, don't miss out because your vacation does not fall during the summer months.
This depends on your launch site: either Kelly Park is near Port Canaveral right off of Hwy. 528 (about 45 mins from Orlando), or in peak-season also, Haulover Canal in Titusville, Florida (1 hr; 15 mins from Orlando).  Kelly Park near Cocoa Beach is the closer launch site to Miami.
Lots of people who love kayaking with their dog have asked about this tour. We do not recommend this one for dogs, as it is a night kayaking tour. Maybe chose the manatee tour or the monkey tour instead of bioluminescent kayaking if you want to have a great experience with your favorite pooch!
Because of wildlife and environmental protection we have a limited number of kayaks we can launch at one time.  So, we use 2 person tandem kayaks in order to get all of our guests out to see the bioluminescence on the dates they want.  That does not mean you will be in a large group.  Only 8 boats go out with 2 guide boats at one time.
Because of the limited availability of our equipment, they tend to book up quickly.  Please call us if there is a time/day you would like that is not available for online booking.  We may be able to get you on.