Swim with Manatees at our Famous Springs
This gentle giant spends the cold months in the springs, which stay a constant warm temperature throughout the year. Visit a Florida spring in the winter season and be amazed at the amount of manatees gathered to stay warm. If you want to get a closer view, areas like Crystal River offer the opportunity to swim with manatees. Companies like River Ventures also emphasize manatee protection and safety by asking guests to be passive viewers and letting the manatees come to them.
See a Drive-In Movie at one of Florida's 7 Remaining Theatres

Yes, there are still drive-in movie theatres! Enjoy an evening of nostalgia while watching a movie from your car. Most theatres also have curbside dining for the perfect 'dinner and a movie' night. Some fan favorites are the Ocala Drive-In and the Ruskin Drive-in Theater, but check here for a full list of Florida drive-ins. As a plus, many drive-ins are less expensive than traditional movie theaters, and by attending you'll be supporting a small, locally owned business.
Visit Lovers Key State Park
The name says it all – located in Fort Myers Beach, Lovers Key is a stretch of beach where you can find wildlife such as birds and dolphins. Enjoy time relaxing on the beach, take a walk down the two mile stretch of sand, or rent a kayak to go out on the water. There are also wooded trails to hike through, including the Eagle Trail to see our national bird. A popular destination for weddings, this park is a perfect place to spend a romantic day with your significant other.
Go to the Ernest Hemingway Museum in the Florida Keys
Photo by The Ernest Hemingway Home & Museum
Ernest Hemingway, famous writer of more than a few well-known love quotes, once lived in the Florida Keys. His then home has since been made into a museum for a glimpse into his life and the house he and his family kept. They also have many cats living at the home, some of them descending from Hemingway's own cat, Snow White. Spend some time walking through the beautiful garden and viewing the desk that Hemingway once wrote on.
Take a Sunset & Bioluminescence Kayaking Tour on the Space Coast
If you've never seen bioluminescence, it is truly a bucketlist experience. In this Sunset & Bioluminescence tour, start your kayaking trip watching the sun set over the water while watching for dolphins and manatees. Then, once night has set, watch as the water begins to glow as the bioluminescent dinoflagellates and comb jellies in the water start to appear.
Explore St. Augustine
This old city is full of beautiful sights and things to do. You can easily spend the day exploring St. Augustine, looking at the architecture and discovering all that the city has to offer. Climb the St. Augustine Lighthouse and witness the amazing view. Spend some time walking the beach. Take a horse-drawn carriage ride. Go into all of the unique shops found on St. George Street. Take a free tour at the St. Augustine distillery. Here, the possibilities can be endless!
Show Your Adventurous Side in Ocala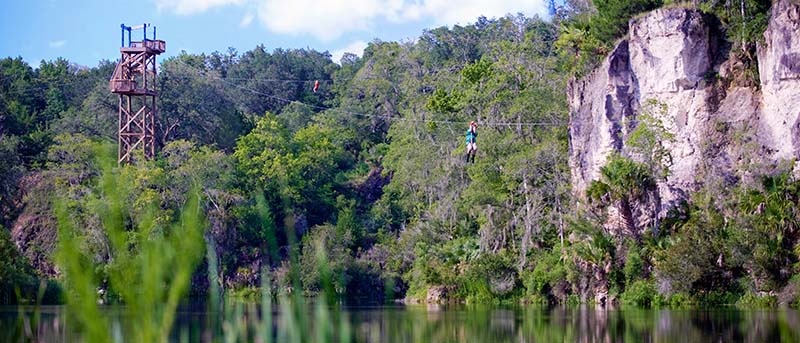 Photo by Canyons Zip Line & Canopy Tours
Do you and your significant other like to be truly adventurous? Visiting The Canyons in Ocala is the perfect date for you. Zip-line over water and past tall cliffs in area that almost doesn't even feel like Florida! You can even zip-line on a full moon night to speed past the moon reflecting on the water. They also offer many other adventures, such as horseback riding, kayaking, fossil hunting, and gem mining.
Go On 'The Wheel' At Icon Park in Orlando
For a romantic evening in Orlando, purchase tickets for a private capsule and view the lights of Orlando from a birds eye view. From up high, you can see popular destinations like Disney and Universal Studios, as well as natural landmarks such as Big Sandlake and Little Sandlake. Before getting on The Wheel, stop at their bar and pick up a glass of wine or champagne to truly complete the experience.