Here are the Best Times to See Bioluminescence in Florida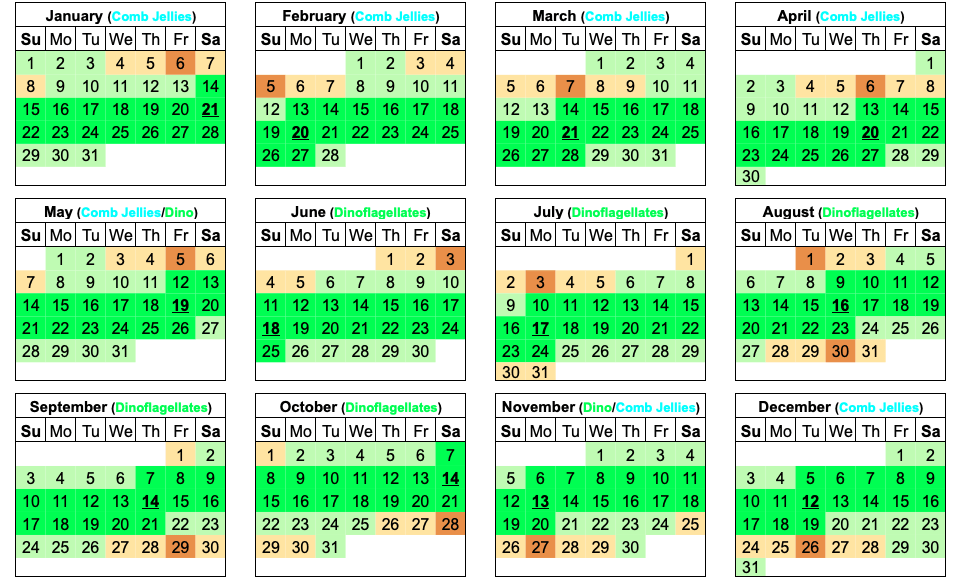 When Can I See Bioluminescence?
Bioluminescence is a year-long phenomenon. In the summer months (June – September) and into Fall, we see a bioluminescence produced by a plankton called dinoflagellates. In the winter months, we see a bioluminescence produced by comb jellies. During certain months we are able to see both of them at the same time during the transitionary periods.
While we are able to see at least one type of bioluminescence throughout the entire year, the visibility of the bioluminescence can depend on the moon phase, shown on the above calendar.
So, Should I Go See Bioluminescence on the New Moon?
While we typically see the bioluminescence nightly, the optimal time to go is on the days before or after a new moon when there is little to no moon visible. This way, there is no moonlight reflecting on the water disrupting your view of the bioluminescence. We recommend going within a week of the new moon, or on days when the moon is going to be rising late. However, these dates typically fill up fast, so we recommend booking well in advance.
Will I Still See Bioluminescence If I Go On a Full Moon?
While the moonlight can affect the bioluminescence, you can still have a great experience on a full moon night. Our guides are trained to take you to the areas where you are most likely to see the bioluminescence, such as areas where trees are blocking the moon. There are also many nights where the clouds are blocking the moon, making it feel like a new moon night. You can also try to go on a night when the moon rises very late in the evening after your tour. Plus, during the summer months when the dinoflagellate bioluminescence is at its peak, you should see bright bioluminescence every night. Kayaking during the full moon can be a beautiful experience!
What Are Dark Sky Nights?
"Dark skies" is when the moon rises later in the evening or early the next morning. Depending on the time of your booking, even if it's not a new moon, the moon will not be visible as it will not have risen yet! This makes it just as good of a time to go as a new moon night. To see our dark sky calendar for 2023, please click here.
Still Need Help Picking A Date?
We are happy to help you pick the perfect day to go that works for you and provides an amazing bioluminescence experience. Call or text us at (407) 519-8711 or email [email protected].