View the 2019 Perseid Meteor Shower on this Bioluminescence Kayaking Tour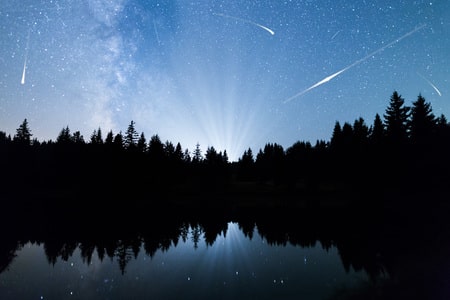 The beautiful, amazing Perseid meteor shower will be August 11th through August 13th. Don't miss out on this unbelievable site to see! Come join us in one of our Kayaks for only $55 per person for our fantastic Bioluminescence tour and see the meteor shower on the water! (Book Tour Here)
What is the Perseid Meteor Shower?
This is one of the most watched and beloved meteor showers in the U.S. This meteor shower can reach from 80-100 meteors per hour as we pass through the densest part of the stream and the number of meteors increase. Now that's a lot of meteors. These meteors come from a single spot in the sky and if you trace them backwards, you will see the constellation Perseus.
Where in Florida to see the meteor shower?
You will be able to see this all over Florida, but the best viewing place will be under a dark open sky; such as, out on a lagoon, waterway or just an open field. On our bioluminescence tour we take you our to the open water where the skies are clear and dark. From both of our launch sites, Kelly Park and Merritt Island Wildlife Refuge, you get views of the Space Center. This is a great place to view the meteor shower, especially while kayaking in the glowing bioluminescent waters.
This is one of the best places to view this in the Central Florida, or Orlando area.
Bioluminescence Tour – Kelly Park East (near Port Canaveral)
Why would this be great to see on our Bioluminescence night tour?
Two great phenomena – One great tour!
During our Bioluminescence tours, your paddle and splashes cause the Dinoflagellates send off a glow so you have glowing water surrounding you as well as the meteor showers above! If you use the "Aurora borealis app" on your smart phone, you may be able to get a photo of both! (We cannot be responsible for your equipment, please bring waterproof case if you take anything in your kayak.) Great tour from Cape Canaveral if you are taking a cruise the next day!
When will this Meteor Shower happen?
Predicted peak of the Perseid Meteor Shower is the nights of August 11th through August 13th! You should give yourself at least an hour of observing time which works out perfectly on our tour because you are out on the water for 90 minutes!
Should you bring anything to this watching?
No, all you need is yourself! No need for special equipment(telescopes) or even knowledge of the constellations.
FAQ: Are there other Meteor Showers this year besides the Perseid one? Yes, there is a few others such as: The Draconid Meteor Shower (October 7-8), The Orionids Meteor Shower (October 21), The South Taurids (November 4-5), The North Taurids (November 11-12), The Leonid Meteor Shower (November 17-18), and The Geminids Meteor Shower (December 13-14). However, this is one of the most watched and beloved meteor showers in the U.S.
Remember: All good things come to those who wait. No way to predict how many meteors you will see in one night so just come tour with us while we wait and watch, all while enjoying the bioluminescence surrounding our kayaks.
Social Share