Florida Bioluminescence and Ride Tide – Not the Same Thing
There has been a lot of bad news in Florida about red tides lately.  The algal blooms have killed much of the fish and wildlife along the west coast, and created a nuisance for homeowners in the area.  However, this marine algae is not the same as the famous Bioluminescence that so many come out to see on the east coast of Florida.  In fact, this red tide also threatens the beautiful glowing dinoflagellates and comb jellies that we see on BK Adventure Night Tours.
Difference Between Toxic and Non-toxic dinoflagellates
The bioluminescence we see on night tours along Florida's east coast is a type of dinoflagellate (phytoplankton) called Pyrodinium bahamense. It is a natural occurring part of the marine eco-system in the Indian River Lagoon of Florida.  It also occurs naturally around many Caribbean islands.  This phytoplankton is considered non-toxic.  But has a common factor with the toxic strains in that the more pollution that occurs in a waterway, the more food there is that helps the algae grow and bloom.  Fish, manatee, and other marine life have always had a symbiotic relationship with Pyrodinium bahamense in places like Florida's Indian River Lagoon.
The species of bioluminescent algae that occurs near Florida's east coast is different than what you see in the many videos from San Diego, California where the bioluminescence rolls in at night due to a red tide.  The red tide in California is called Alexandrium tamarense. This red tide glows bright blue at night, and looks similar to the bioluminescence in Florida. However, it is a different species of dinoflagellate.
The Florida red tide that occurs in the Gulf of Mexico is from an algae called Karenia brevis.  This red tide has also occurred regularly on the Gulf Coasts for many years.  However, as pollution grows in the area, the red tide bloom in that area has had an unprecedented overgrowth.  It is human facilities like factories, waste treatment plants, and fertilizers that have created this harmful overgrowth of a naturally occurring marine algae.
Bioluminescence Tours – Are They Okay?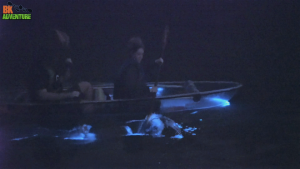 Bioluminescence tours have been happening in Florida and around the world for the past 20 years.  In recent years, Florida has become more well-known for bioluminescence near Titusville and Cocoa Beach in the Indian River Lagoon.  It is fascinating to see the water glow bright blue.  There is no reason to avoid this amazing phenomenon as not all bioluminescence is harmful.  Bioluminescence is in fact a natural defense mechanism of many marine creatures including phytoplakton, squid, shrimp, and some fish.
The owners and managers of BK Adventure Eco Tours in Florida are all certified naturalists in Florida Coastal Systems.  The health and respect of the wildlife in the area is a top priority of our eco tours program.  We take people to see bioluminescence near Titusville and Cocoa Beach, Florida.  We have done much research to ensure that indeed the places we take our guests part of what is great about "real Florida!"
For more information about Florida's bioluminescence check out the website at NOAA.