Florida recently had a hurricane pass by its east coast, which is home to some of the world's brightest bioluminescence. As the top bioluminescent kayaking company in Florida, we get asked a lot what happens to the bioluminescence after a hurricane. This year, we had Hurricane Ian go through the majority of our state. So, let's see how some past hurricanes have affected our bioluminescence blooms here in Florida.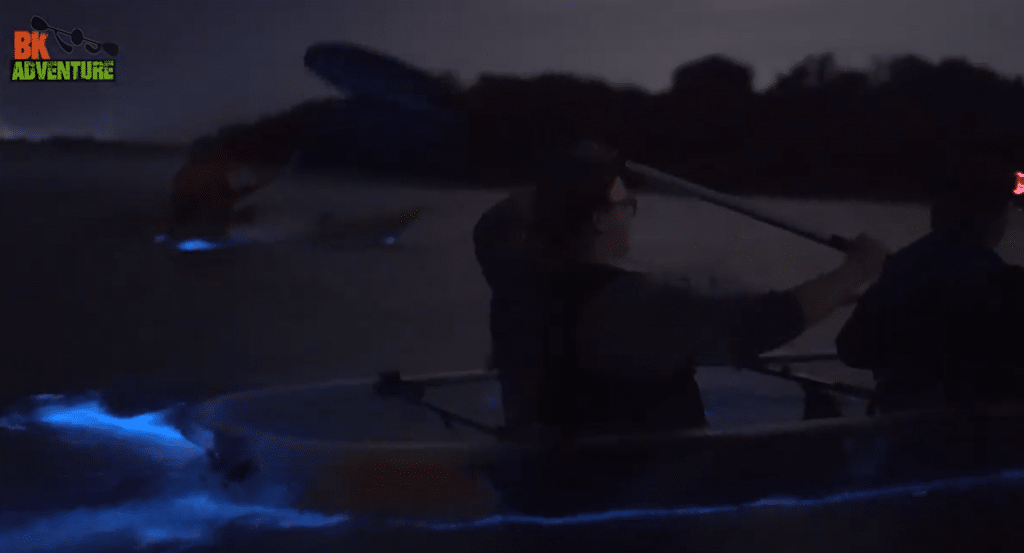 Bioluminescence is Great After Hurricane Ian
After Ian, we of course got many inquiries as to whether there was bioluminescence left. We are happy to report that yes, as of this posting on October 3rd, the bioluminescence is still nice and bright. We are currently seeing mainly the bioluminescent comb jellies, which is typical for this time of year. Currently guides are reporting 4 out of 5 stars for their bioluminescence rating and that is during nights when the moon is quite bright.
That's good news. It means that on the upcoming new moon of October, there should still be a beautiful blue-green glow on the water.
All Hurricanes Are Different – Let's Talk Irma
Hurricane Irma hit on September 10, 2017. Unlike Dorian that came to Florida from the east and crawled up the coast, Irma came from the south. Hurricanes coming from the south, or west hit Central Florida harder. This is because the gulf stream current moves away from the coast of Florida around Jupiter, and carries weather out into the ocean. This strong current carrying bad weather away from the central east coast is precisely the reason NASA chose Cape Canaveral for the Space Center when it chose the launch site in the 1960s.
For our bioluminescence tours at BK Adventure, Irma did some extreme damage. A spin-off tornado destroyed one of our buildings located on the Banana River, and damaged much of our equipment. We also saw an immediate dissipation of bioluminescent plankton in that river. However, 30 miles north at our Merritt Island Wildlife Refuge launch site, the bioluminescent blooms were still intact though not as bright as before the hurricane. Sometimes a bit of rain stirs up the bioluminescence and makes it brighter, but Hurricane Irma dumped a lot of water and brought a lot of wind. Florida was lucky that we ended the 2017 summer bioluminescence season with our beautiful glow still intact. Our neighbors in Puerto Rico were not so lucky, and the hurricane damaged the island severely as well as hurt a highlight of their tourism industry – bioluminescent kayaking.
What Happens to the Bioluminescence After a Hurricane?
The answer, as you can see from the above examples is, it depends. Sometimes it does nothing or makes it better, sometimes it disperses the glowing plankton and dilutes the concentration. Amazingly in the autumn of 2017 after Hurricane Irma, the Banana River launch at Kelly Park saw a plethora of glowing bioluminescent comb jellies (a type of non-stinging jelly fish). This is because the water run-off from the nearby neighborhoods provided food. Comb jellies thrive on pollution, and as unfortunate as it was that heavy rains added unnatural things to the river eco-system, our friends the comb jellies came out in abundance to take care it! Thanks jellies!
So, if you are wondering when is a good time to see bioluminescence or what you will see after a hurricane, the easy answer is, there is almost always some bioluminescence in the Indian River Lagoon. Sometimes it's dinoflagellates (plankton), sometimes it's comb jellies, sometimes even fireflies, but if you're not sure, just give us a call at BK Adventure. We're always happy to talk to our adventuring guests. 407-519-8711
You can book our Bioluminescence Tours any time here – Book Now