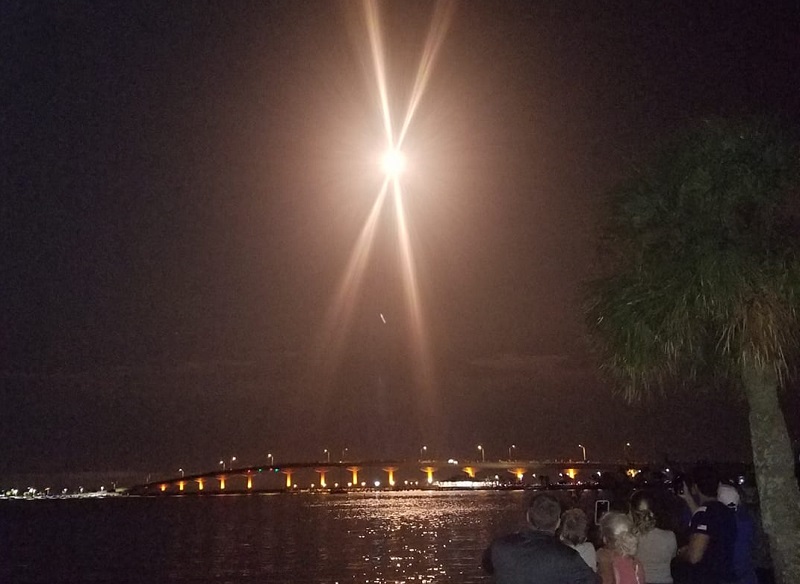 Do you want to know one of Florida's best kept local secrets? It's called the Merritt Island Wildlife Refuge and it's just an hour away from Orlando on the Space Coast. This place is home to both natural wonders like the world's best bioluminescence, and tech wonders like Space X rocket launches. The wildlife refuge shares land with Kennedy Space Center, and if you time it right, you can plan a magical night in a clear kayak paddling glowing waters and see the night light up as a rocket takes off – at the same time!
How to see bioluminescence in Clear Kayaks
Space X has their own schedule, and you'll have to check that here. But to get on a clear kayaking bioluminescence tour, just choose your night. BK adventure launches tours every night (weather permitting) from the Merritt Island Wildlife Refuge. The best times to choose are the week before or after a new moon (see new moon calendar for 2021 here), or summer months of June – September.
The Magic of Clear Kayak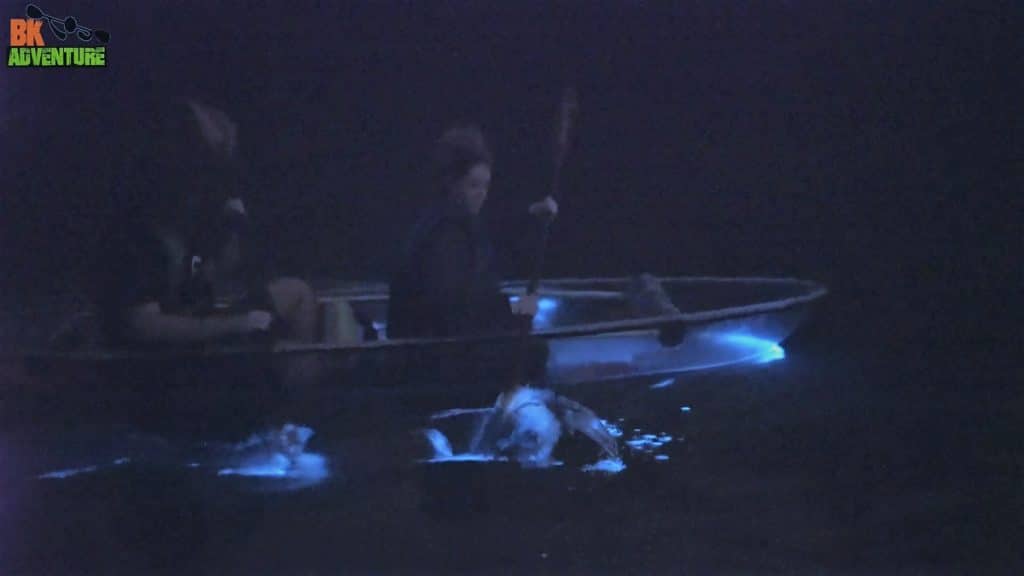 Our Clear Kayaking Bioluminescence Tour is a guest favorite at BK Adventure, and for good reason! Clear kayaks are the best way to see the bioluminescence, offering an amazing see-through perspective. Rather than a standard, solid-color kayak, these completely translucent kayaks give you a total view of the glowing bioluminescence, allowing you to see it through the bottom of your kayak and all around you.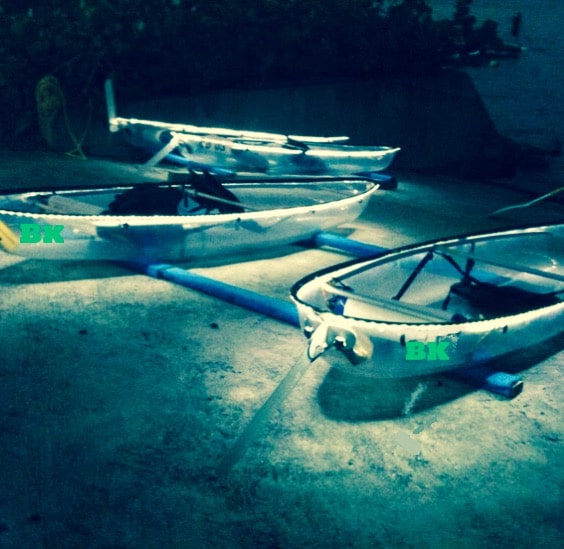 Common Questions About Our Clear Kayak Bioluminescent Tour
Before our guests book, they often have a few common questions about our clear kayaking:
How are clear kayaks different from standard kayaks?
Clear kayaks and regular kayaks do differ in a few ways. Clear kayaks, of course, are translucent and give you more visibility of the water around you and the organisms in it. They also handle a bit differently. They can be described as a canoe-kayak hybrid. Also, it should be noted that clear kayaks are made as tandem kayaks, they are meant for two people. Don't worry – your tour guides will help you adjust and you will be smoothly gliding through the water in no time!
2. Are they recommended for all guests?
Clear kayaks do have a few more limitations compared to regular kayaks. They have a weight limit of 415 lbs (188 kg), with no more than 250 lbs (113 kg) in one seat. Alternatively, our standard tandem kayaks have a weight limit of 550 lbs in total (250 kg). As these kayaks can handle a bit differently, we also recommend letting our office know if you are a brand new kayaker or have hesitancy on the water before booking. We can help you decide if clear kayaks are the best fit for you, or if you may be more comfortable in one of our regular kayaks.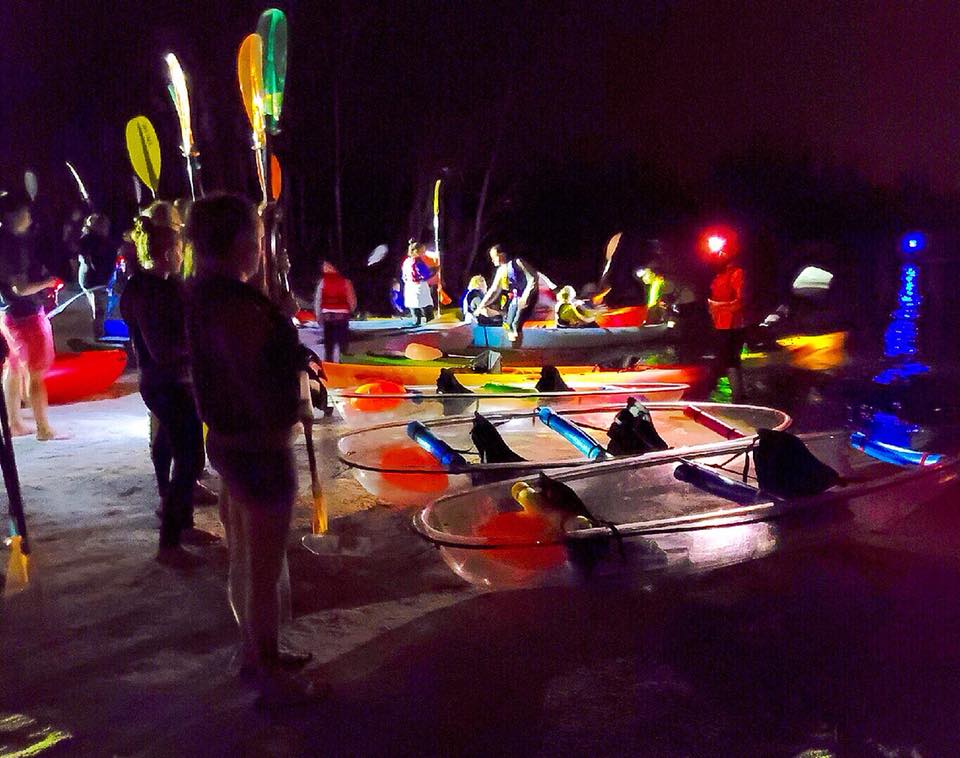 3. Does using a clear kayak instead of a regular kayak really make a big difference in being able to see the bioluminescence?
Yes, clear kayaks do make a large difference! You are able to see the bioluminescence through the bottom and sides of your kayak, giving you an extra view that lights up beneath you and all around you. Here's what some of our guests have to say about our clear kayaks:
"Loved the clear kayaks. Had done this trip before in a regular kayak and seeing them throughout the bottom as you paddle over makes a huge difference in realizing how many you are passing over. It's like passing over a meteor shower."

Linda B, TripAdvisor
"I highly recommend the clear canoe for evening trips – it was like flowing through a galaxy with the Bioluminescence glowing from the touch as we moved through it."

Steffe1985, Tripadvisor
"We went in clear kayaks and it was worth it! I felt like I was in Avatar and got to see fish, sting rays, and dolphins glowing blue in the water."

Curiosity03256629123, TripAdvisor 
With guests comparing their clear kayak bioluminescent experience to the world of Avatar, you can see why it's a favorite of ours, and of all our guests! To schedule your own clear kayak bioluminescence experience, you can book 24/7 online here or give BK Adventure a call at (407) 519 -8711.