Directions to Haulover Canal Kayak Launch – North Side of the Canal
Need Help? Call (407) 519-8711 or (407) 361-9969
Drive toward Titusville, FL to the Merritt Island Wildlife Refuge. (Please note, this is NOT in Merritt Island, Florida… It is in Titusville, Florida.)
 Haulover Canal Kayak Launch Site – PLEASE READ ALL OF THE DIRECTIONS as the Wildlife Refuge is not marked like a city and GPS is not always reliable.
We will be launching at Haulover Canal North Side Kayak Launch site.
Here is a link Google Maps to the entrance of NW Haulover Rd.  GPS Google Maps – put in "Haulover Canal Kayak Launch"  Please drive all the way to the end of – NW Haulover Road.  It is a windy dirt road about 1/2 mile long.
Depending on the direction you are coming from, step by step directions may not line up with GPS directions. We recommend you look over your trip before heading out, as cell service is spotty in some areas.
From Orlando – take 528 (Beachline) to I-95 North.
Drive toward Titusville, FL to the Merritt Island Wildlife Refuge. (Please note, this is NOT in Merritt Island, Florida… It is in Titusville, Florida.)
Titusville, Florida is easily accessible from most locations from Interstate 95 (I-95).
Directions from I-95 towards Titusville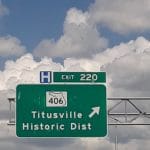 Take exit 220 for FL 406 East (Garden St.)
Follow FL 406 East through Titusville.   Keep going straight, over US 1 (about 6 miles) and cross over the Max A. Brewer Causeway bridge.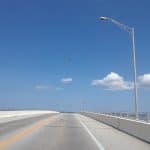 Go over the A. Max Brewer Memorial Bridge. Continue on the road for approximately one mile.
You will enter the Merritt Island National Wildlife Refuge and Canaveral National Seashore.  Keep driving for about another mile until…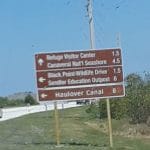 You see the brown sign directing you to Haulover Canal.
Turn left onto this road.  You will PASS Black Point Wildlife drive.  Keep going.  After about 4 miles the road will end, and you will see another sign directing you to Haulover Canal….
(If for some reason you miss the turn, don't worry, just go to your next stop light and make a left.)
Turn left once you get to the stop sign onto this road (Courtenay/Kennedy Pkwy.) Follow this road about 6 miles until you see the drawbridge, just over the drawbridge, take the first left.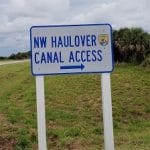 This is a dirt/gravel road that will wind left and take you next to the canal, you will be on the final stretch when you take a right through a narrow set of pylons, and then you will be driving alongside the Haulover Canal.
Follow that road along Haulover Canal to the very end. You will see a beach and parking area. That is where we will meet and launch the kayaks. Be sure to stop and use the restroom in town before coming out on the Refuge. Unfortunately, there are no facilities at the launch site. If you have any questions, you can call us at (407) 361-9969 and we will be happy to help with directions over the phone.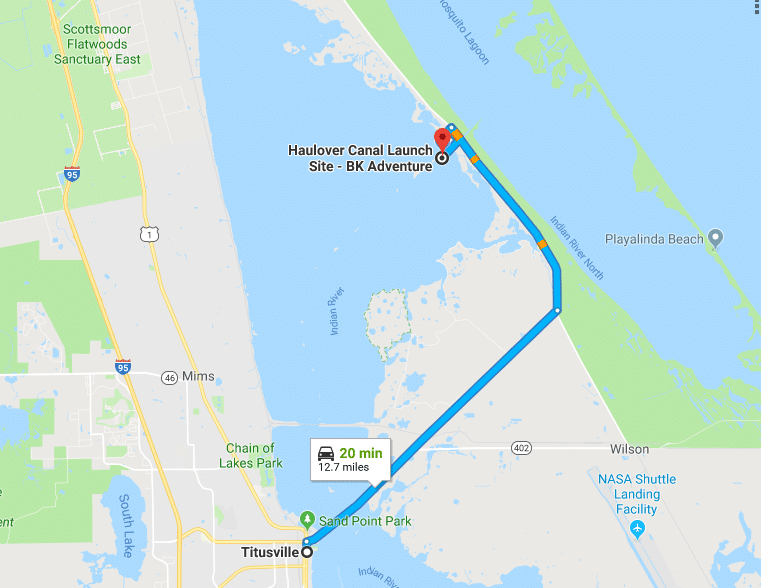 Enjoy your Manatee and Dolphin Kayak Tour, or your Sunset Tour!