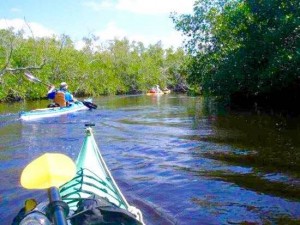 Looking for something to do in Orlando, and Central Florida other than the theme parks? You found the perfect place – welcome to our world class Florida Eco Tours! BK Adventure is part of a global adventure tour outfitter with local guides taking you to the heart of wild Florida.  We specialize in kayaking, hiking, and mountain biking day trips around the Orlando area.
Our team has global experience guiding expeditions, tours and treks in the Southeast USA, Europe, Nepal, and India.  From extreme adventure to historical walking tours, our guides have experience to suit every travel type.  For our Florida adventures, join the BK team headed by Ram, a native of Nepal, who brings fun, storytelling, and up close and personal nature experiences to you.   To find out more about our amazing adventure guides click here.
Orlando hotel pick-up on I-Drive and Disney area available for Silver Springs Tour! Please phone us for more details or add-on to your online booking.
#GetOutside with our Manatee Kayaking Tour – Cocoa Beach Area!
Canoe and Kayaking Tours
We have great options for families.  Instead of kayaking, try out a canoe.  Canoes are great for parents and children to paddle together. Canoes are bigger than kayaks, and can fit up 3 people. Please let us know when you are booking your trip if you will need a canoe.  Prices are the same per person regardless of vessel.
Mountain Bike Hikes
Take a trip to Florida's "Outback!" Join us in the Little Big Econ Forest to for a mountain bike ride that is fast, fun, and full of wildlife.  The Outback is known for it's wildlife including whitetail deer, eagles, and of course, the occasional gator sunbathing near the river.  For easier bike rides, take our Family Bike Hike on easier routes in the same area.
World Tours
We do more than just Florida Adventures, we have are an international outfitter providing Himalayan treks and whitewater tours, medical mission treks in Nepal and Peru, and Fitness Treks around the world. For more information, check out TREKT Himalaya.