One of the most common phrases I get in my DM and comments as a Florida tourism blogger is "I didn't know bioluminescent kayaking (or bioluminescence) was near me!" Or "Where is there bioluminescent kayaking near me?"
Even if you live a ways from the Indian River Lagoon, if you are in Florida, then some of the world's best bioluminescence experiences can be had with just a one day drive to the Space Coast (Brevard county) which includes the cities of Titusville, Cape Canaveral, Cocoa Beach, and Melbourne. This is about one hour easy of Orlando, and about 2.5 hours east of Tampa – St. Pete. If you are coming from the Miami area, it'll take you about 3-3.5 hours straight north on I-95 until you get near the bioluminescence tour areas. You can learn more about bioluminescent kayaking and tours here.
Where can you find bioluminescence "near me" in Florida?
There are lots of places to launch your kayak into the Indian River Lagoon, or the Banana River if you are near Cocoa Beach. Some of the places you see tour companies launching from have restricted permits for night launching, but there are many places to go if you have your own paddle board or kayak and you would to meander into the glowing iridescent waters. Here are some parks that are easy to find and launch from. We recommend Parrish Park in Titusville, if you just want to wade into the water.
Parrish Park – Titusville
Ramp Road Park – Cocoa Beach
Manatee Cove Park – Merritt Island
Kiwanis Park – Melbourne
Marina Park – Titusville
Is there bioluminescence in the Florida Keys?
There has been sightings of bioluminescence around the Florida Keys. It would make sense that there would be some in the waterways and canals around the mangroves. Bioluminescence thrives in brackish water. In this area you may find glowing plankton dinoflagellates, and perhaps in cooler months (because there are no cold months in the Keys), you could see ctenophores commonly known as comb jellies. But bioluminescence is not as abundant in the Keys as it is in the Indian River Lagoon. In fact, the northern region of the lagoon is one of the #1 bioluminescence research areas in the world.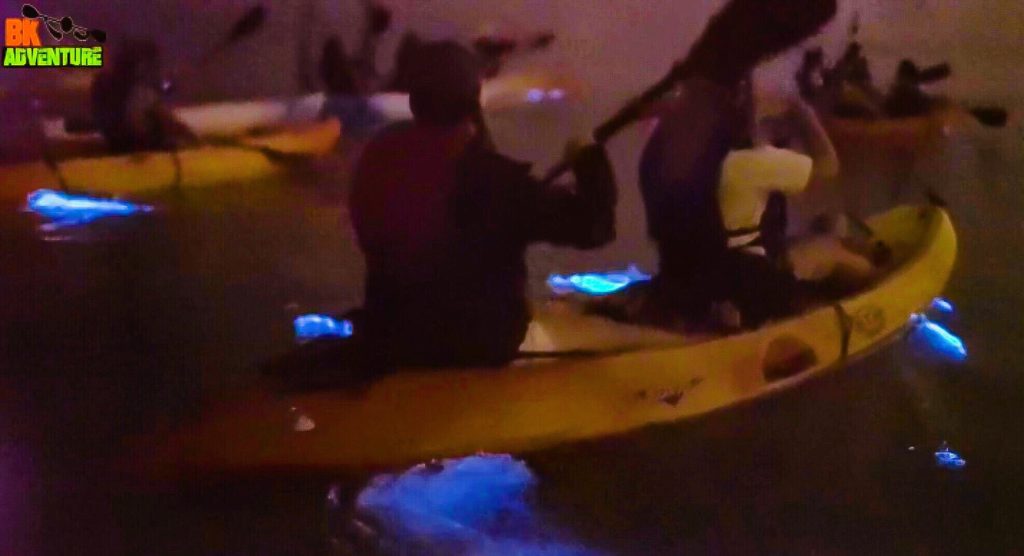 What about bioluminescence near Tampa?
Yes and no. We have asked many tour providers in the Tampa area if there is bioluminescent kayaking on the west coast. Generally the answer is "we have seen some bioluminescence, but never for long, and not a lot." This could be for several reasons. Bioluminescent dinoflagellates are an algae that need specific conditions to flourish. The waters must be warm, and rather calm. They need time to grow and spread before they are eaten by their natural predator zooplankton. Perhaps the inland waterways in the Tampa – St. Pete lack too much or too little of some the required ingredients to make bioluminescent organisms thrive. There have been sightings, but as far as we know, it's better to spend the weekend on the Space Coast and see bioluminescence that, in the height of the summer, is considered the best in the world.
Where is bioluminescence found around the world?
There are so many places around the world to see this phenomenon. I have personally done bioluminescent kayaking or snorkeling tours in Puerto Rico, Thailand, and Mexico. I would say (and this is without bias) that in my experience, Vieques, Puerto Rico and Titusville, Florida have the best conditions for consistently bright bioluminescence. The advantage Florida has over any other place in the world is that there is both summer and winter bioluminescence, so you can see it year round. Here is a list of places you can see bioluminescence around the world:
Puerto Rico – Vieques and Fajardo
Mexico – Isla Mujeres
US Virgin Islands – near St. John
Australia – Jervis Bay
Thailand – Phi phi and Krabi Islands
Japan – Toyama Bay
Belize – Anderson Lagoon
Cayman Islands – Bio Bay
USA – Cape Canaveral, Florida and San Diego, California
Do you know any other places where you can see bioluminescence?
I love to talk to people about bioluminescence and share this phenomenon with others. If you know of a place that you have seen great bioluminescence, or there is an easy drive that people could take to do bioluminescent kayaking, comment below. I will check it out and add it to the list!
Is there a bioluminescent kayaking tour near me?
I hope so! All of the places listed above are known to have tours. In Florida, you can take a bioluminescent kayaking tour with BK Adventure. There are even family rafting tours and paddleboard tours. BK Adventure is the largest bioluminescence tour provider in the world, with more ways to see bioluminescence than any other tour company. Here are a list of tours you can get on tonight!